Meet the Issue 2 Literary Editors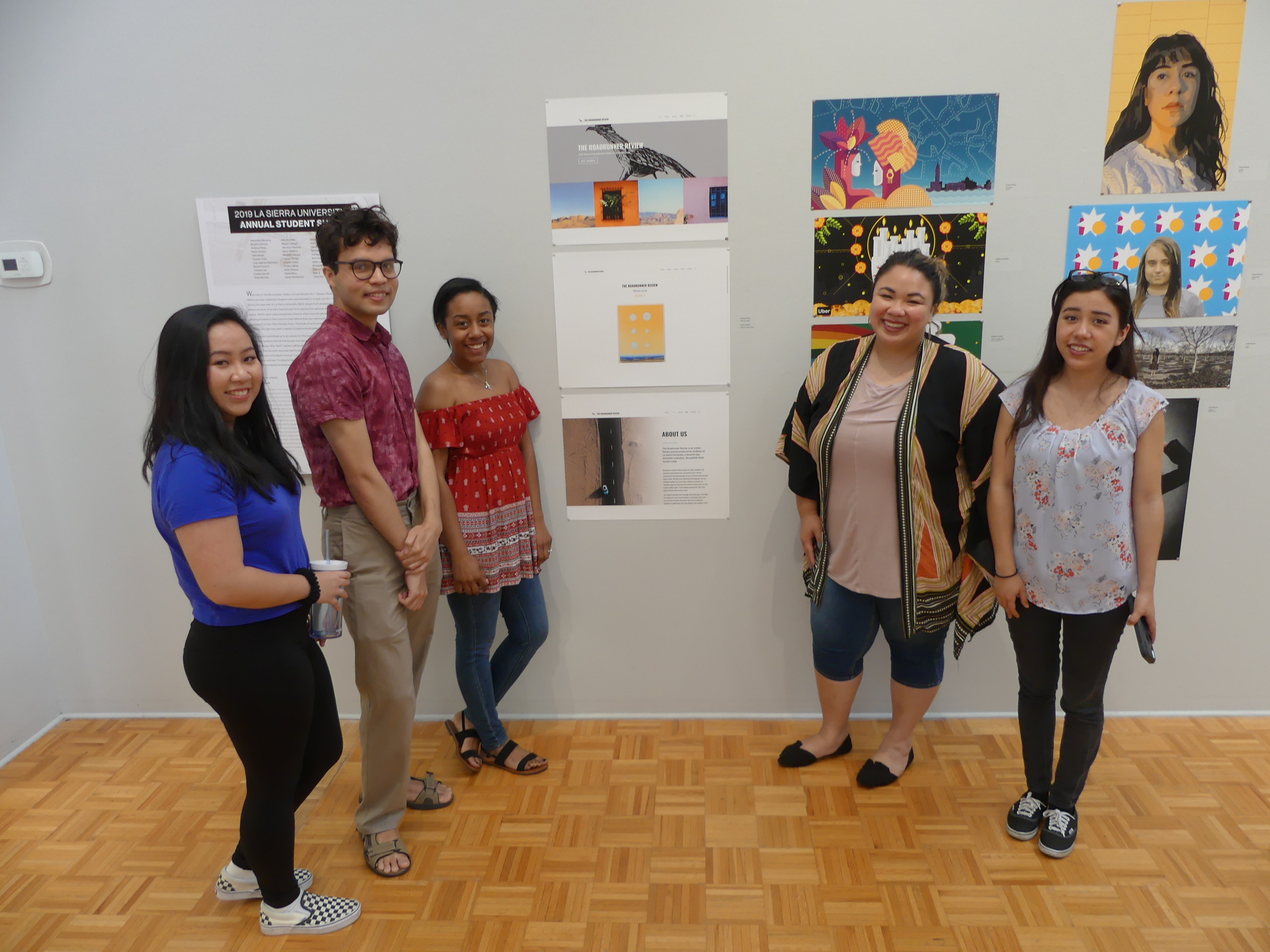 L to R: Ashli-Jane Benggon, Ethan Hoffman, Katherine Gonzalez, Emily Cortez, and Patty Granizo.
What was your favorite piece in Issue 1 and why?
"'Icarus' by Christine Sloan. There is something about the way she writes about trauma that felt interesting and familiar to me. It was also interesting to me that the voice in the poem was that of someone who was witnessing this event. Not someone who is invested but who obviously still felt moved by the scene unfolding in front of her. It is haunting in the best ways possible." Emily Cortez
"My favorite piece from the first issues is the short story, 'Shelter' by Stacey Johnson. Beautifully written and such a compelling voice and place." Ashli-Jane Benggon
"I really loved 'Skin' by Hannah Ford. Her brilliant descriptions and characterizations are something that any writer can aspire to." J. Ethan Hoffman
"I think that my personal favorite piece from the first issue is "Dear Dad" by Emma Winegardner. I loved the intimacy I felt with the narrator and the sense of longing to understand that the writer created. I too wish I understood more about my parents, especially my more reserved father, so the piece really hit home." Patty Granizo
"'Raise Your Standards.' I'm a huge reader and I always have been. It's one of the few things that I find pure joy in so It was nice to read a lighthearted but true piece about what it's like to date a true bookworm. Katharine Kistler is my spirit human in this piece. One of my favorite lines is, "Date a girl who chooses reading over studying." – Me, always." Katharine Gonzalez 
 What does publishing student writers mean to you?
"It means giving people a voice in a field that is hard to break into. It also means that we are giving people a physical and tangible accomplishment that says your voice matters." Emily Cortez
"It means helping student voices be heard in the professional writing world. As a student, I know how hard it is to break out into this community and being able to help students do it is amazing." Ashli-Jane Benggon
"I understand the struggle of being a student writer. So, giving other students the opportunity to be heard and have their voices validated is very important to me. Keeping young voices involved is what will keep literature alive for years to come. I'm happy to be apart of their journey." J. Ethan Hoffman
"To me, it means exposure. I think it is great when a student, especially one that may have never been previously published, finally has the chance to experience what it feels like to have their work out there for the world to see. It's an exciting feeling, and I'm happy to be a part of that process." Patty Granizo
"As a student writer myself, it means everything. I know the stress, the anxiety, and the bravery it takes to send in a piece for submission; Especially a personal piece." Katherine Gonzalez
What are you currently reading? What are you currently writing?

"I'm reading the short story 'The Resident Patient' by Sherlock Holmes for a class I'm taking. I'm in the process of editing a creative nonfiction piece about my homeland, Malaysia, and my father's childhood there." Ashli-Jane Benggon
"I am working my way through One Hundred Years of Solitude by Gabriel García Márquez. After reading a lot of modern contemporary work, it's fun to read Márquez and see how influential his work is. In terms of writing, I'm writing a lot of poetry as of late. I enjoy interacting with all genres – fiction, creative nonfiction, etc. – but I've come back to poetry because I want to write something I enjoy as much as the poems I've read." J. Ethan Hoffman 
"Unfortunately, I am only reading my class-required materials as of now. But, if I had a chance, I think I would like to read Toni Morrison's Beloved. I'm currently working on a few non-fiction narratives." Patty Granizo
"Right now I'm reading a ton of fiction. I've been going through this phase in my life where I want to be a detective, so lots of stories about the next door neighbor turned serial killer/cult leader." Katherine Gonzalez
What has informed your identity as a writer?

 "My experience as a multiracial Latinx, navigating what life is like on the hyphen and then observing the world from that hyphen." Emily Cortez
"My identity as a writer is formed by my culture as a Malaysian-American and by the people I love." Ashli-Jane Benggon
 "Honestly, it's about what I've been reading. It feels almost sacrilegious to pick up a master's work and think about what I would have done differently. But, I do it and I encourage others to do it as well. I don't enter a novel thinking I'm better than the novelist. I just have an ever-present voice that nudges me to think about my personal aesthetic preferences as I read." J. Ethan Hoffman
"The things that I am passionate about and the culture and upbringing I had. I can't escape what I know, so why not write about it? I've also been shaped by the things I've read." Patty Granizo
 "My life. What I know and what I write about is directly influenced by the things I have seen and gone though." Katherine Gonzalez
What recommendations would you have for students who are thinking about submitting to Issue 3?  
"Write the poem or story that speaks and moves you. What is driving you? Whatever that is you should harness it and never let that go because that is where the most honest writing will happen." Emily Cortez
"Find your voice and stick to it. Many writers who have submitted to us tend to undercut their writing by spelling out their message in their conclusions. You don't have to do this! Trust the reader will find the underlying meaning in your piece." Ashli-Jane Benggon
 "Write honestly and don't get too caught up in the mechanics of things. If you can vividly capture the emotion of a story, cling to that and fearlessly whittle through any minutiae or nonessential details your work might have." J. Ethan Hoffman
 "Only you have a story unique to yourself. I think that sometimes we hold back because we may worry about what others will think of us or our writing and then we never get around to being honest. I would tell the writers thinking of submitting for our third issue: don't be afraid! Use the voice that only you have and speak out. Write something that makes you happy." Patty Granizo
"DO IT! It's scary and maybe even kind of awkward but we love reading and discovering new authors, as well as authors that have been writing for a long time. We believe in student writers because we are student writers. Trust us with your amazing work."  Katherine Gonzalez