Meet the Judges for the 2022 Roadrunner Prizes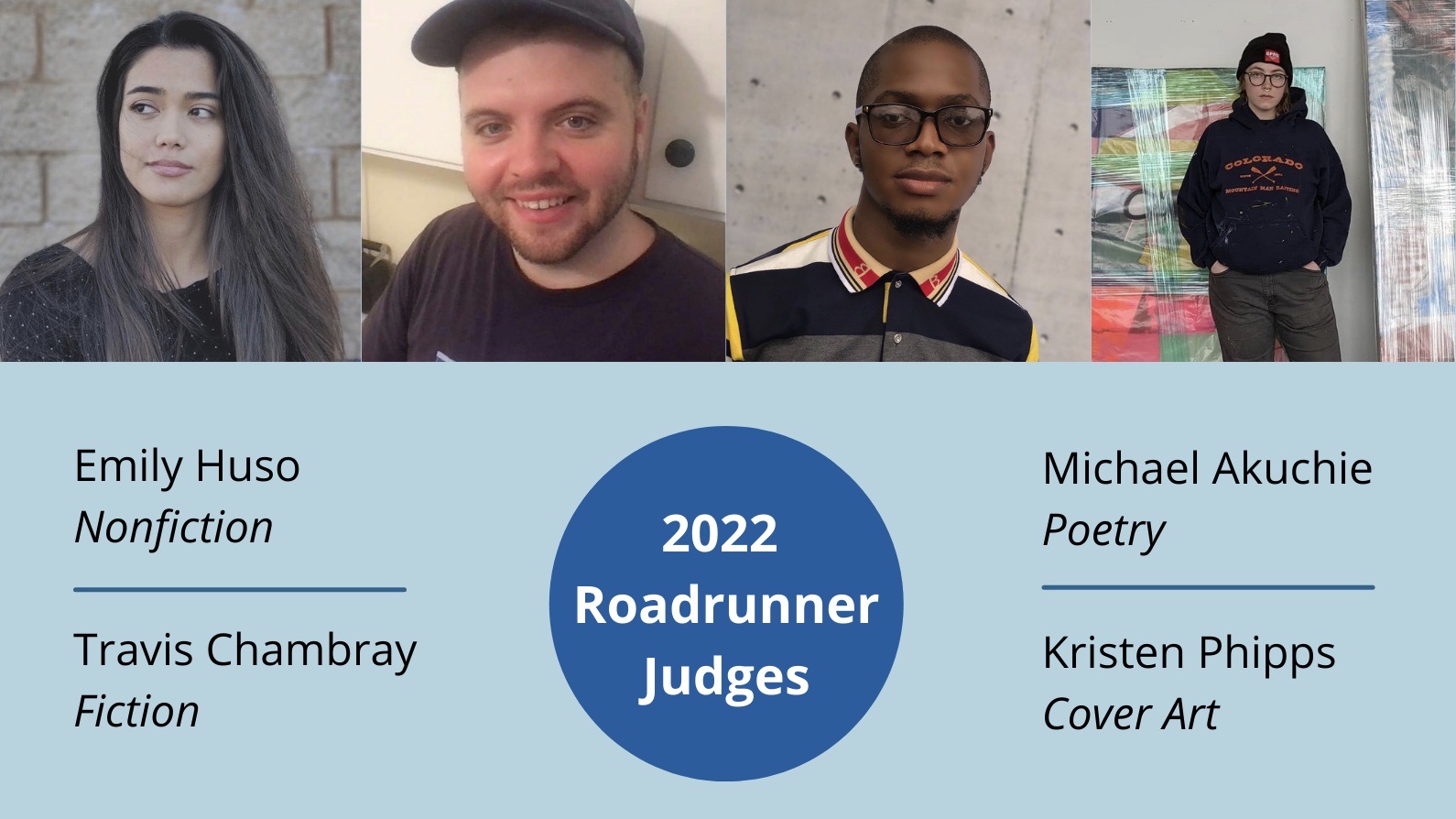 We are thrilled to welcome Emily Huso, Travis Chambray, Michael Akuchie, and Kristen Phipps as judges for our 2022 Roadrunner Prizes. All submissions for ISSUE 10 will be considered for our Roadrunner Prizes. The winner in each genre will be awarded $100 and publication in ISSUE 10. Submissions are free.

Creative Nonfiction Judge: Emily Huso is a Filipino-American writer and educator from Northern California. She graduated from the English MA program at California State University, Chico, and from the creative writing MFA program at the University of Washington. Her work has received support from AWP's Writer to Writer Mentorship Program and the Bread Loaf Writers' Conference and appears in Multicultural Echoes and The Roadrunner Review.
Fiction Judge: Travis Chambray is a Bermudian writer. In 2020, he graduated from The Open University with a Bachelor of Arts. He is the winner of the first Roadrunner Fiction Prize.
Poetry Judge: Michael Akuchie is a poet and essayist residing in Nigeria. Wreck, Michael's debut chapbook of poems, was selected by José Olivarez to receive the 2019-2020 Hellebore Poetry Scholarship Award. Michael won the 2020 Roadrunner Poetry Prize. He is continually inspired by mundane things.

Cover Art Judge: Kristen Phipps (United States, 1993) was born and raised in Wichita, KS and lives in Chicago, IL. She received an MFA in painting from The Ohio State University, a BFA in painting from the Savannah College of Arts and Design, and an AA from Cowley County Community College. She won our 2021 Cover Art Prize.
We are accepting entries until Jan 31, 2022.