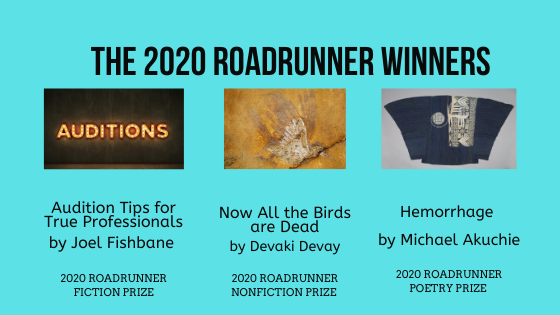 Winners of the 2020 Roadrunner Prizes
Joel Fishbane won the 2020 Roadrunner Fiction Prize with his short story Audition Tips for True Professionals.
Guest Fiction Judge Michael Jaime-Becerra wrote: "I chose 'Audition Tips for True Professionals" as the winner because it wonderfully captures its speaker's voice, which is complex and funny and a little defensive, too. Without spoiling it for future readers (I hope!), I appreciated how the writer uses precise details to suggest the blinding force of the speaker's ego, how the true motivation for the audition begins to reveal itself, how the humor in the story begins to resonate differently, more meaningfully, as the speaker continues to share their insights on the audition process and its outcome. This is a brilliant, moving piece."
Devaki Davay won the 2020 Roadrunner Nonfiction Prize with his essay Now All the Birds are Dead.
Guest Nonfiction Judge Amanda Fields wrote: "There is a wonderful quality of movement to this essay; just when I get a foothold, it pulls me elsewhere and mystifies me. Through the fragility and drama of the Earth, the narrator conveys grief, loss, and death. These themes unfold through poignant, immersive details. The writer's voice is powerful, and the turn at the end is stark and beautiful."