2020 High school Writing Contest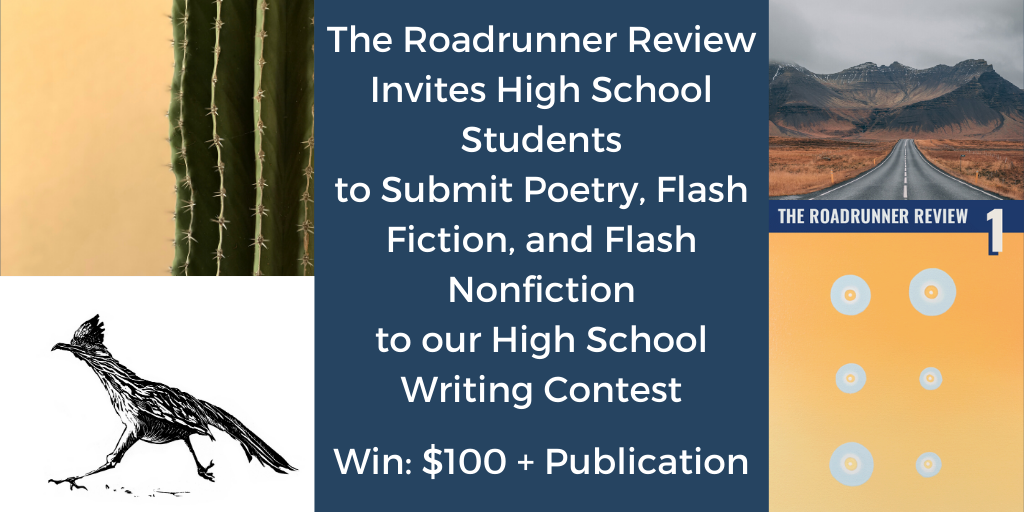 The Roadrunner Review is holding its second annual High School Writing Competition. We invite high school students to submit poetry, fiction, and creative nonfiction. The winner will be awarded $100 and will be published in ISSUE 5 of The Roadrunner Review.
Submissions free
Deadline: June 15
___
 We were blow away by the many fine submissions we received last year. We look forward to reading this year's entries. Submit here.

2019 Winner
Rome Smaoui, Idyllwild Arts Academy
My Grandfather Died While I Was Shopping for Funeral Shades
2019 Honorable Mentions
Shawnewa Dahozy, Holbrook Indian School
Native Americans in U.S. History
Steviee Geagan, Lincoln Park Performing Charter School
Divorce Diction: A Phrasebook
Bella Koschalk, Idyllwild Arts Academy
Odes to the Dregs of Last Year

Ava Lee, Notre Dame San Jose
Revelation, Revolution