Tiger Tales in Quarantine: A Review of Three Ways to Disappear by Katy Yocom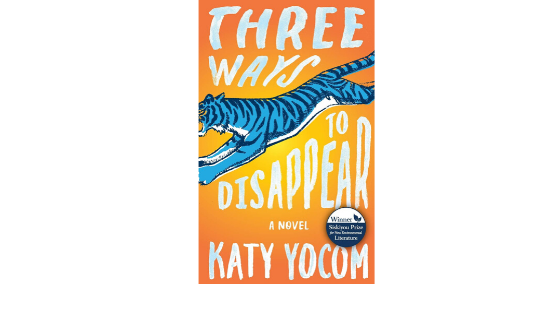 By Holly Elaine Hayton
Loss of control and uncertain resolutions speak directly to the socially-distanced reader: the themes of uncertainty, fear, and anguish present throughout Katy Yocom's Three Ways to Disappear (Ashland Creek Press, 2019) resonate as the world faces down the first contemporary global pandemic. The onset of social distancing has brought audiences to the arts like never before, seeking occupation and entertainment. Perhaps no media sensation has been more visible throughout quarantine than the Netflix docu-series Tiger King, which quickly went viral after its March 20 release. The show documents the larger-than-life personalities and relationships of big cat collectors while glossing over the abuse, inhumane conditions, and illegal selling and breeding of endangered animals, such as tigers, in their care. The creators of Tiger King actively remove audiences from both reality and accountability. Conversely, in the age of social distancing, Three Ways to Disappear strikes close to home by engaging readers, rather than distracting them: two sisters work to save their relationship from half a world apart, one in Louisville and the other in India's Ranthambore tiger reserve.
As society in the U.S. works to cope with a sudden loss of normalcy and avoids the reality of mass deaths, climate scientists have worked tirelessly throughout the pandemic in an effort to draw parallels: the widespread and dramatic response we have seen to the coronavirus will arrive, inevitably, in an even more severe reckoning with climate change. The longer we wait, the worse it will be—and the less likely that humanity, let alone endangered species like tigers, will survive it. Without falling back on didacticism or over-simplification, Three Ways to Disappear addresses conservation in a way that entertains while informing, and never shies away from the complexity of the contemporary world.
In the midst of her all-American life as an artist, wife, daughter, and mother-of-two in Louisville, Quinn spends much of the novel facing down a failure of courage. The conflicting needs of her mother, husband, and her only sister Sarah leave her on edge and unable to escape the past. Sarah has left journalism to take a conservation post at Ranthambore National Park in India, a country that has haunted the family for decades. As children, they lived in Delhi with their parents while their father ran a medical clinic. While they were there, their brother and Sarah's twin, Marcus, died of cholera at the age of seven.
The split narratives trace each sister as Sarah struggles to adapt to her new job, facing complex dilemmas as efforts to save India's remaining wild tigers infringe on the survival of local villages. Meanwhile, Quinn swallows her fear of Sarah's return to India while desperately watching over her son who, only a year older than Marcus at his death, faces life-threatening asthma. Amplifying the stressors that each sister faces is Sarah's unexpected rise to fame when an unplanned tiger rescue is caught on film.
The tigers, inexplicably drawn to Sarah's presence in the park, hover in a powerful and intimate presence over the novel; the tension of constant threat to their existence and the race to save their environment is echoed by the desperation of the two sisters as they feel the final remnants of their family slipping through their grasp from thousands of miles away.
Instead of seeking to distract its audience from harsh realities, Three Ways to Disappear works to draw readers closer into the value of a natural world that's worth saving, not because of its separation from us, but because, like the bonds of family, it is inextricably part of us. The book takes a few chapters to hit its stride. However, if some of the expository elements read prosaically, they are ultimately effective in establishing character relationships. More importantly, they lay groundwork for some of the novel's most resonant emotional truths.
On her first observation of a tiger, Sarah tells Quinn, "For the first time in my adult life, I saw a tiger in the wild, and I found myself shocked to discover that he and I have something in common. That the tiger's untamed nature does not exempt him from routine and responsibility. That wildness and freedom are not the same thing." Yocom returns to this theme repeatedly throughout the book. Characters find familiarity in unexpected relationships, and the buildup to these revelations lead to payoffs that are primarily true to life, rather than sensationalized.
Perhaps the greatest achievement of Three Ways to Disappear is that the inclusion of dual protagonists allows Yocom to achieve both a quiet novel and a plot-driven one. Relationships are fully and delicately rendered in one world, while predators lurk in the shadows of the other. The balance is rare in any novel, and even more valuable in a book driven by the lives of two complex female characters. Neither Sarah nor Quinn fully embrace or reject the paradigms of femininity, and their dramatically different contexts allow these expressions of womanhood to come through as a driving force of the novel without becoming its explicit purpose.
Another strength lies in the author's refusal to draw clear lines in the fight for conservation: Three Ways to Disappear exists in gray area. The effort to set aside land for nature preserves removes villagers from their homes. Drought drives them to return to the preserve for water, leading to the deaths of tigers and villagers alike. Full species rehabilitation is an impossibility when even nature preserves exist only as isolated pockets amid urban sprawl. Characters are confronted by the consequences of climate change, the complexities of human rights in the face of nature preservation, the widespread corrosion of systemic patriarchy, and the implications of white savior narratives in a developing society. The tigers are written with reverence, but at no point does Yocom's observation of human individualism slip into vilification.
Katy Yocom has crafted an ideal novel for the unprecedented audience of a 2020 pandemic. Merging entertainment and reality, fear and growth, pain and love, Three Ways to Disappear speaks keenly to true life. It also provides an excellent opportunity for readers interested in the world of small-press books who may be unsure of where to begin: Three Ways to Disappear was published in mid-2019 by Ashland Creek Press, a "vegan-owned boutique publisher dedicated to publishing books with a world view," after Yocom's manuscript was selected as the 2016 winner of the Siskiyou Prize for Environmental New Literature. It has since received a place on the Barnes & Noble Top Indie list, and was awarded as 2019's Best Fiction by Books by the Banks. In March 2020, it was longlisted for the VCU Cabell First Novelist Award, which seeks to "honor an outstanding debut novel published in the preceding calendar year." Three Ways to Disappear is longlisted alongside other notable 2019 debuts, including Kristen Arnett's Mostly Dead Things (Tin House Books, 2019), Chia-Chia Lin's The Unpassing (Farrar, Straus and Giroux, 2019), and Ocean Vuong's On Earth We're Briefly Gorgeous (Penguin Group, 2019), which was named one of three finalists in mid-May. The final prize will be awarded in June.
Engrossing without escapism, readers will find elements of their lives present in Three Ways to Disappear in ways that pure distraction doesn't allow. As Tiger King's following continues to expand, climate specialists are working to remind us that the immediacy of the coronavirus and its consequences does nothing to diminish the urgent threat of environmental catastrophe. Instead of looking away for the sake of entertainment, Three Ways to Disappear offers the solace of a novel founded on what makes life meaningful, instead of one that conjures an unrecognizable universe. The narrative is grounded in recognizable reality that entertains without removing readers from themselves. In lieu of sensationalism, Katy Yocom reminds us of the precious ways in which we are bound to the world that exists outside the confines of our bodies and, for the foreseeable future, our homes.
Bio: Holly Elaine Hayton is a former editor for The Roadrunner Review and graduated from La Sierra University in 2019. She currently reads fiction manuscript submissions for Split/Lip Press. Holly lives in southern California with her partner and their two cats.    

Support your local bookstore by purchasing through Indiebound.

Learn more about Ashland Creek Press.

Learn more about the VCU Cabell First Novelist Award.