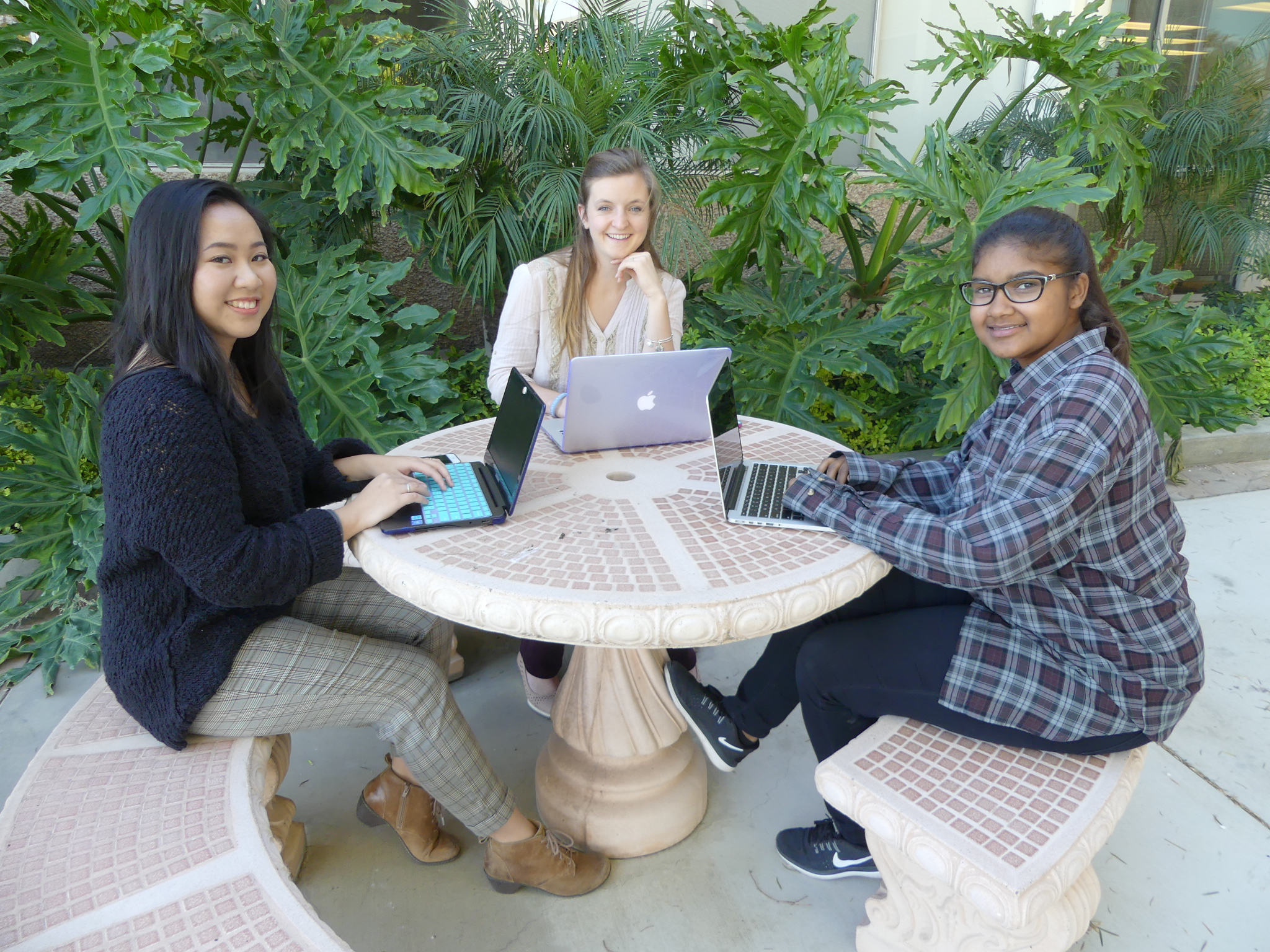 Ashli Jane Benggon, Holly Hayton and Callie Boyd-Scoggins (pictured L to R) are The Roadrunner Review's first cohort of student editors. They have helped conceptualize the journal, worked on promotion, created the journal's social media accounts, and are in the process of reading and selecting submissions.
Here they are in their own words.
Why is it important for you to create a literary journal for specifically student writers?
Callie: I know a few people who love writing but are intimidated because they don't have "enough experience." A literary journal intended for student writers alleviates some of the fear.
Ashli Jane: For student writers, such as myself, there is this pressure to publish before you graduate. But most well known literary journals, don't publish first-time writers. I hope that The Roadrunner Review can be the literary journal that will publish first-time writers.
Holly:  I've been thinking a lot lately about the pressure we place on young writers. Our society glorifies youth—think "30 under 30″—and sometimes I wonder if that costs us as writers. Student writers should be focused on developing their craft through writing for publication, and development stalls or becomes damaged when we write only for prestige. It's important as a literary community to create spaces for writers in all stages of life.
What are some of your favorite literary journals?
Callie: Brevity and Hoot
Ashli Jane: Hoot and Belletrist
Holly: The New Yorker and Zyzzya
What do you look for in the first line of a story or poem? What kind of writing catches your attention?
Callie: I like writing that moves quickly and is riddled with detail. When I read a poem, I need to feel a connection to it. It needs to speak to me.  
Ashli Jane:  What I pay attention to in the first few phrases is the establishment of the character.
Holly: A writer isn't supposed to say this, but I rarely notice the first line of a story. What I look for in any writing, across genres, is an attention to beautiful language and prose within a strong sense of narrative and plot.
What does the name The Roadrunner Review mean to you?
Callie: The title suggests quick, speedy, captivating reads. And that's exactly the kind of writing I enjoy.
Ashli Jane: At La Sierra University, there is this roadrunner that would appear once in awhile and whenever I would catch a glimpse of it, it would leave me with a sense of surprise and delight. The name The Roadrunner Review comes from this roadrunner and I hope our literary journal will leave you surprised and delighted after reading its contents.
Holly: I grew up in a small town that claims itself "the avocado capital of the world." There are no flat surfaces in Fallbrook, only granite-studded hills and live oak canyons. My grandmother lives at the top of one of these hills; her house is windowed on all sides. She can see the ocean from her bedroom and distant desert storms from her kitchen. I grew up in this house, sitting at her kitchen table and watching roadrunners on the asphalt. The roadrunner represents home.