Meet the Editors: Issue 5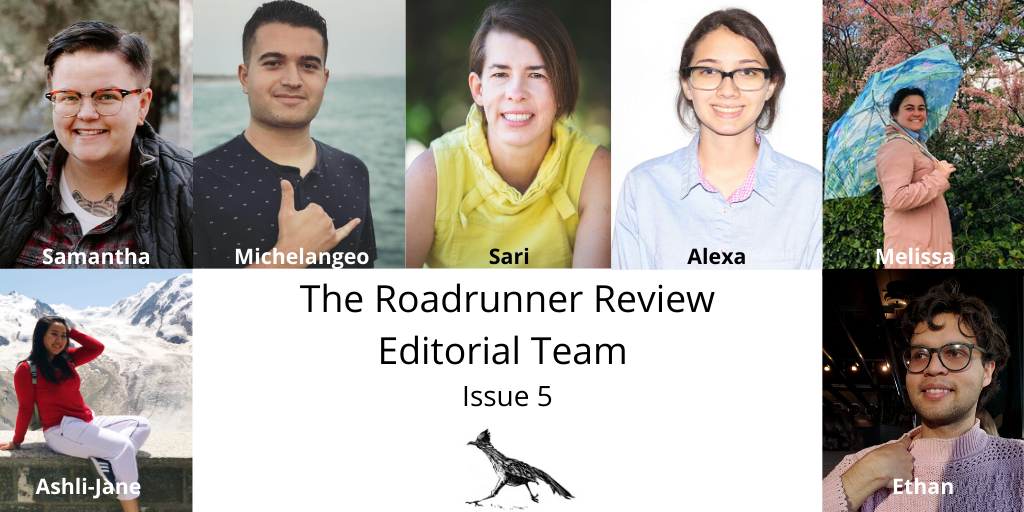 –f
What are you reading these days? 
Alexa: These days I'm trying to keep up with the news. But in terms of literature, I've actually been reading children's novels! I'm taking a course on children's literature from the 1940s to now. 
Samantha: High School  by Tegan and Sara Quin has been one of my favorite books in a while because it's a raw, honest coming-of-age (and I normally hate that phrase) story of twin sisters coming to terms with their sexuality, drug use, complicated friendships, and newfound fame. The stories are so well told and relatable, and I definitely saw a lot of myself in the pages. It kept me drawn in, as any good story does.
Melissa: I'm currently reading The Orchardist  by Amanda Coplin in my free time, and rereading The Lord of the Rings by JRR Tolkien.
Ethan: Currently, I'm reading Beloved by Toni Morrison. Next up is Between the World and Me by Ta-Nehisi Coates.
Ashli-Jane: I've been reading a lot of nonfiction these days, especially literature by black writers. I've recently just finished Harriet A. Washington's book, Medical Apartheid: The Dark History of America's Experimentation on a Black Americans from Colonial Times to the Present. It's an incredibly dark and painful read but also very necessary. 
Michelangelo: The Book by Alan Watts and The Witcher Series by Andrzej Sapkowski.
Sari: Fruit of the Drunken Tree by Ingrid Rojas Contreras, all the pandemic articles by Ed Yong, and The Yellow House by Sarah M. Broom.
What are some literary journals that you think our readers should be familiar with?
Alexa: Crêpe and Penn because of how open the magazine is. 
Samantha: Lavender Review features the voices of lesbian artists. I've read a number of LGBTQ+ lit mags in the past, and there tends to be favoritism in the voices being shared. Even magazines that claim to be representative of the entire community have a tendency to represent male voices and white voices more often than other minority groups, so I really appreciate that the Lavender Review not only features exclusively female voices, but also does a very good job of representing minority voices as well.
Ethan: I'm very interested in THE HUNGER. Every piece engages with the idea of "hunger" in a different way and it's thrilling to see just how creative each interpretation is. I think it's such a fascinating concept for a journal because it shows how quickly writing builds upon itself, how to take an idea even further down the road paved by those before. Other favorites include: Acentos Review, Split Lip Magazine, and (although not a journal) the ¡HolaPapi! newsletter from John Paul Brammer.
Ashli-Jane: I know I've done a blog post on this but HOOT is still one of my favorite literary journals and I highly recommend it. I've also started reading Brevity more because of our editor-in-chief!
Michelangelo: TriQuarterly and The Green Light.
Sari: The Wrath-Bearing Tree was started by combat veterans and has a social justice focus. In their own words: "We despise kitsch, propaganda, and state-sanctioned murder. To our credit, we have not given up on the human race."
Where do you think literature and literary magazines will go in the next 10 years? Where do you hope it will go?
Alexa: I believe that most literary magazines will be online. Maybe to save trees or because most folk would rather look at their screen.
Samantha: Lit mags have been around for years, but there are so many amazing ones that most people haven't heard of, and I feel like there's been a jump in recognition in recent years. Voices that are not usually showcased now have a place to be heard, and people are able to see and hear perspectives that they may not have experienced otherwise. It's been great seeing so many magazines, particularly some of the smaller ones, becoming more widely recognized. I hope this trend continues.
Ethan: In the current moment, we're deconstructing the way literature appeals to white, cis, heteronormative bourgeouis ideals. Looking at the hashtag #PublishingPaidMe on Twitter, we can see just how disparate pay for white and BIPOC writers is. A lot of this stems from the way publishing was built, which means that we will have to tear down and rebuild. My hope is that the conversation doesn't end when the zeitgeist does. I believe we should and will rebuild a literary community that reflects the diverse world we live in on all levels, from the highest ranking seniors to beginners.
Ashli-Jane: Many literary journals are transitioning to online formats, which will make literature so much more accessible. I hope that more space is made for BIPOC (Black, Indigenous, People of Color) in the literary journal/literature/publishing world. Too often I've seen BIPOC writers hired and underpaid or passed over for their white counterparts. I think it is time that changes. 
Michelangelo: I feel tablets will become the norm for reading anything in the next ten years. I am an old fashion person who prefers to read a hard copy.
Sari: There will be more BIPOC editor-in-chiefs and book reviewers, and therefore more representation throughout publishing. Also more magazines will have a designated nonfiction editor listed on the masthead. I both hope for these things, and I expect them to happen!
Why do you think it's important for The Roadrunner Review to exclusively publish student writers?
Alexa: Because most magazines focus on older authors, I think it's nice to have a literary magazine focus on younger voices. It's amazing to highlight the voices we don't often hear.
Samantha: It's important for The Roadrunner Review to exclusively feature student writers for the same reason I think there should be magazines that exclusively feature minority writers, women writers, LGBT+ writers, etc. There should be places for people to explore their creativity and have their voice heard, and having magazines that cater to a specific type of author increases the likelihood that their work will be seen.
Melissa: Sending your work out for publication can be so daunting, and it's encouraging to know that you're being considered next to other students and not authors that are well-established.
Ethan: Frankly, student writers often prove to be the most interesting voices. Writing from someone in the process of learning is often more fluid. Students are actively studying form and are looking to break it in new, thrilling ways. I think Roadrunner has been home to a lot of great writers on their way to even more success and I'm excited to see where they go. To any previously-published writers, tweet us and let us know where your new work appears! As editors, we picked you because we're interested in your voice and we want to read even more of it. 
Ashli-Jane: Speaking as a soon-to-be former student, I know firsthand how hard it is to get published by literary journals. The Roadrunner Review has published a few first time published writers and I'm so proud to be a part of a literary journal that helps student writers get their foot into the literary journal world. 
Michelangelo: To encourage college students to submit the stories and poems.
Sari: We originally made the designation in order to support student writers. Now, I see that by focusing on student writers, we're highlighting just how much writers at the beginning of their careers have to offer the literary community.
These are weird times, so here's a lighter question: Have you picked up any quarantine hobbies?
Alexa: Napping, playing ukulele, and making a mean cup of coffee. 
Samantha: I have dabbled in everything from needlepoint to woodworking since being stuck in my apartment. I completely refinished my dining table and chairs, started (and almost immediately failed to keep up with) learning Arabic, spent 60 hours needle pointing a polar bear for a friend's first baby, and have reorganized my bookshelves about a dozen times. I think needlepoint may be the only hobby that sticks, but even that is yet to be determined.
Melissa: I've been doing a lot of planting and replanting, but I'm considering making my own candles…
Ethan: I've returned to my love of playing the piano and singing, though I would not consider myself worth listening to. I've recently started modulating the songs I know, changing their key by ear. Melodies I've known for years are transformed into something new, yet still fundamentally the same, once they are lowered or raised. It's also a nice way to refresh theory knowledge in practice. 
Michelangelo: I started learning how to draw digital art on my iPad.
Sari: I've been aware for a while now about how our consumption of fast fashion damages the environment and exploits workers. And so I've finally started mending (and darning!). It's not dreary at all, but has become an expression of care and creativity.
Issue 5 is going to be excellent! What is one of the pieces that you're excited about publishing and why?
Alexa: "A Holy Covenant" by Timothy Norton gave such a sense of honesty for two opposing views of religion. 
Samantha: We've had some really amazing pieces submitted this year. If I had to pick just one favorite, I would probably say "Riddles for the End of the World" by Sam Kealhofer. The poems are so simple in structure and language, which I think lends itself really well to the depth of meaning. I was scratching my head by the time I finished reading, and I thought about them for days after the fact.
Melissa: I'm actually very excited for "Spider's Nest" by A.N. McQuillan! It's such a strong piece that feels like it speaks to something deep in human nature.
Ethan: I love every piece that's going into Issue 5, but if I must pick one, the first that came up in my mind was "To Be a Poetess" by Ardra KS. The poem engages with literary history and criticizes the predominantly male culture of the writing community. Every piece is a must-read, but look out for this one in particular!
Ashli-Jane: I'm biased and am very excited about the nonfiction pieces we'll be publishing! One of the pieces I'm really excited about is this really evocative essay by Kristen Read. Her ability to set up scenes and compelling images is really admirable.  
Michelangelo: I am excited about "Rats" by Maria Wickenden because of the use of second person and eerie theme.
Sari: It's a strong issue and I love each piece we're publishing, but I want to draw your attention to the poem "When it Came" by Ty Halton. It's one I've been thinking a lot about lately, especially that last stanza.
I want to add–for all our contributors reading this–that I've sat in on the conversations about what we're selecting and every piece has been our favorite while we talked about it. We are blown away with the submissions we receive and we are just very proud of Issue 5.