Meet Our ISSUE 11 Literary Editors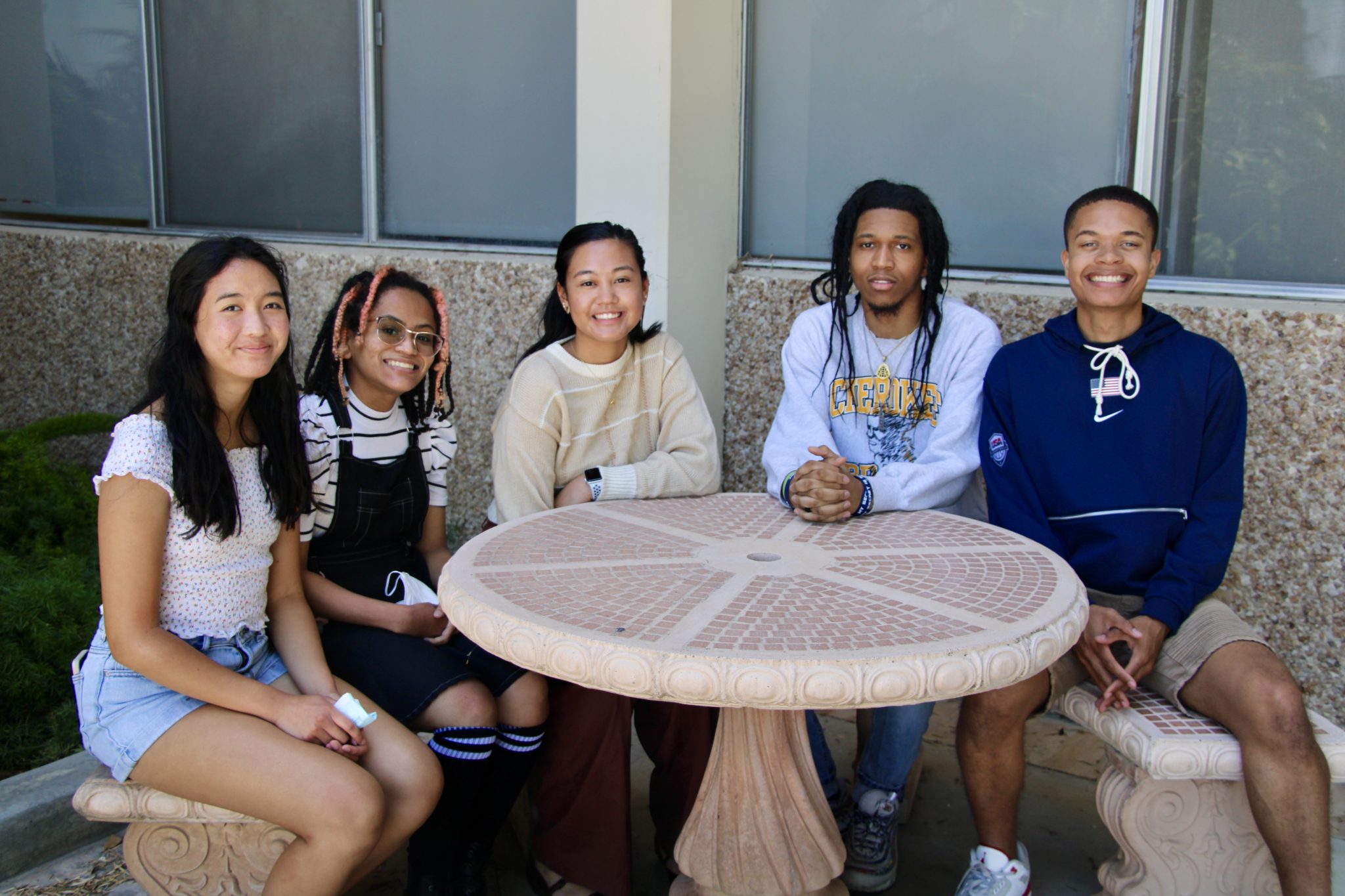 From L to R: Stephanie Galima, Aymara Blackmon, Leia René Abiador, Tyler Foote, and L. Steven Dorsey III
What's been one of the most enjoyable parts of editing The Roadrunner Review?
Aymara: Getting to read submissions. I find it so interesting to see how each writer uses their own style to appeal to their audience, whether it be through how they open the piece, or how they organize everything within it.
Leia: One of the most enjoyable parts of editing The Roadrunner Review is having the ability to be on a team. I have missed being in an open environment among people who share similar interests with me, specifically pertaining to creative writing and visual arts. 
Tyler: Truthfully, the best part was second guessing myself when voting on different pieces. Many times I would catch details when reading a second time and it would change the way I voted originally. It was a fun process.
What's a piece you're particularly excited about seeing published?
Aymara: "Odd Constant Distraction" by Natalie Martasuciello. The poem revolves around the theme of having OCD, and the structure mirrors the topic. The poem gives a glimpse into a familiar scenario that someone with the condition might have; one that general audiences might not be too aware of.
Leia: "She Taught Me How to Cook" by Reeya Gandhi. This piece is about love reflected in food and memories of cooking together. Grandmothers are pure but especially so when you're being taught how to cook by them at a young age.  
Stephanie: "Your Last Birthday Gift to Me Was a Cake" by Kiyanna Hill. I really like the picture it creates in my mind and how it tells a story in a brief, yet impactful way.
Steven: "Una Pupusa Mas" by Raquel Mentor. The piece embodies the themes of ISSUE 11 and makes you ravenous for pupusas in the process.
Tyler: "The Winners" by Hannah Saal.

What should we be looking for in ISSUE 11? What are some of the themes?
Leia: You should be looking for food. You should be hungry by the end of reading some of the pieces. With the discussion of food comes the emotional theme of familial love, which is littered through ISSUE 11. 
Our summer issue is also our High School Writing Competition issue. What were your thoughts on the submissions we received?
Aymara: We had some pretty strong writing submissions. There are a lot of great high school-aged writers out there, and since a lot of them don't get published, the general public doesn't get the chance to see what a young creative mind can accomplish. Seeing the effort these students put into their submissions was inspiring, and seeing how well they can write really makes me excited for their literary futures.
Steven: Reading the high school writing competition submissions was my second favorite aspect of being an editor for The Roadrunner Review. The talent across the board in the submissions was impressive. I also loved to write in high school, but never thought to submit work; so seeing students put their work out into the world was inspiring.
Tyler: I thought that the writers from the High School Competition were very talented. It was hard to choose between all the pieces.

Summer is the perfect time to read? What books do you recommend picking up this summer?
Aymara: Read some manga or graphic novels this summer! 
Leia: Beasts of a Little Land by Juhea Kim is full of wonder and intertwining lives.  Readers follow multiple characters who are navigating life over the course of 47 years in Korea. 
Stephanie:  The setting and plot of Malibu Rising by Taylor Jenkins Reid make it a great summer read! 
Steven: Any book by Malcolm Gladwell, but specifically Outliers.
Tyler: I recommend Total Freedom by Jiddu Krishnamurti.
What advice do you have for future submitters?
Aymara: Remember to take a look at the submission guidelines for any literary journal you decide to submit to, not just ours.
Leia: 1.) Don't be afraid to be weird with your piece. Sometimes oddity is your best friend and The Roadrunner Review looks for unique perspectives. 2.) Keep in mind those deadlines. They are important and getting pieces in earlier, only benefits us as editors and you the writer. 3) Enjoy writing!