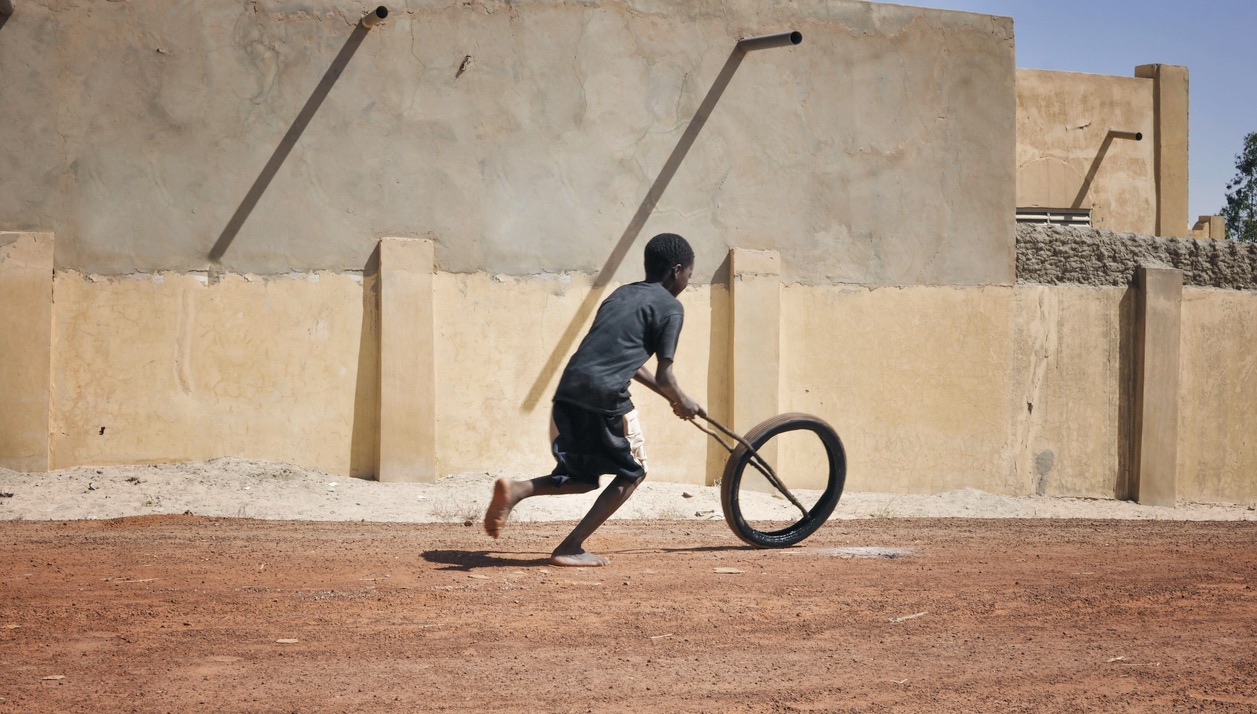 It is a sunny afternoon, and the silence from home follows me.
I'm headed for Port Harcourt, from Yenagoa, in the southernmost end of Nigeria. I can smell the dry harmattan breeze as our bus speeds past others on this suburban highway, connecting Nigeria's east and west. Earphones plugged in my phone, music playing, gazing outside through the closest windows. I like to mind my business.
We drive past car after car, town after town. As we pass Ndele, a university town, I set eyes on a group of children playing. Many wearing only pants, no shirts, mostly bare footed; only a few wore shorts and shirts. Yet, they couldn't care less. If you ask me what is special about them, I will say everything.
They are playing boju-boju, hide-and-seek, whilst wheeling old motorcycle tyres. Children so excited and free. Without worries. That is how I remember it. It reminds me of Timi, my older brother. I am nostalgic.
We grew up in the early 2000s in Ovom, Yenagoa. Our neighborhood was arguably the place with the most crimes and drugs in Yenagoa. Not a good place to raise children. The accommodation was what Mama could afford.
Except for a salary at the end of every month, we —Timi and I— were all Mama had. Our father? Our grandmother says he left us for his new wife not long after Mama had me. Well, that is story for another day.
Our lives were good until August 3, 2006. We heard Timi got into a fight with Terry — the new kid who terrorized the neighborhood. Typical of boys who just blended into secret cults. The fight happened at school. An 'all boys' secondary school. If anyone in a room could let oppression slide, it definitely wasn't Timi. He threw the first punch at Terry, even with Terry's clique behind him.
When the fight happened, another group observed. They liked Timi's guts and wanted him to join them. A group of boys would corner my brother when we went to play and speak to him in whispers.
This cornering and whispering continued for weeks.
One evening, the police came looking for Timi. Terry had been found bruised and badly injured inside a gutter. No, he wasn't dead. Eyewitnesses said my brother was among those who did it.
Timi rarely stayed at home anymore to play with me, his baby brother. He rolled with the ones who called themselves "big boys" in the hood—the ones who carried locally made pistols and machetes, the ones who took people's mobile phones, smoked marijuana, drank, and chased everything under a skirt.
The two-bedroom apartment we call home used to be filled with so much laughter and pleasant noise, courtesy of Timi. But these days, it is silent. Well, it can be noisy sometimes when one of his many victims comes shouting and cursing to report what he has done.
"No, be everybody dem dey do something dey go free o. Madam tell your pikin and him friends say if dem no return wetin dem collect for my hand, I go deal with dem. You hear?"  I remember one woman giving a sort of stern warning about how she would handle things her way. Perhaps diabolically, perhaps not.
As unsurprising as these are to me now, I still hate to hear them.
These happenings don't correspond with the way I know my brother, not the way I remember or want to remember him. Timi stood up for me when we were children and nursed me when I was hurt. He would give me his food, just so I was satisfied, and he cracked jokes. He was so full of life, yet soft-spoken. When did he become this monster?
Nowadays, if Mama isn't at the police station for questioning—where officers will ask her, Madam, that your son again?—then, she is at the house of one of Timi's victims to beg for forgiveness or pay for damages.
I hear Mama crying almost every night in her room. Maybe the tears help in easing her hurt. She quickly wipes them and wears a fake smile when she notices my footsteps approaching the door.
People ask out of wonder why Mama keeps worrying about Timi? Mama smiles and replies with a saying, "Dem no get dustbin wey dem dey troway bad people. My pikin go change." There is no place where bad children are discarded and don't feel the psychological effect.
The last time we ran into each other on the streets, Timi looked thinner. It had been three years since he left home. I had thought time would heal me from fiercely thinking of him the way I do. I was wrong.
I wake up every day with a renewed energy, hoping to find him again. Maybe, writing this will help. Mama believes her son can change. I believe it too. Deep down, somewhere inside of Timi, there is that sweet soul, waiting to be set free. I miss my brother.
It is hard for Mama, but she is patient because love hesitates.
Precious Binafegha is a Nigerian writer who spontaneously writes about the things around him, the kinds of stories with silent voices that have been given little attention. He loves love, reading, and writing, and preaches it, hoping one day it'll save his life. He is currently a history undergraduate student at the University of Port Harcourt, Choba. He writes on Facebook as "Mc Kas'b", and on Instagram as @officialkasb.