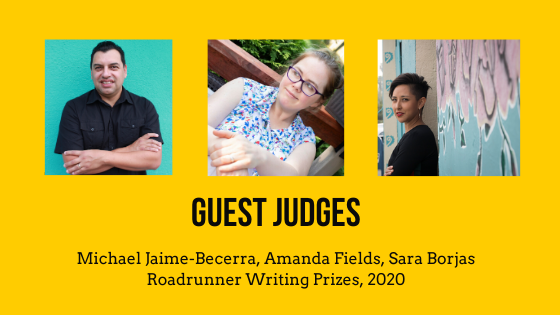 Introducing the Guest Judges for the 2020 Roadrunner Prizes
Michael Jaime-Becerra, our Fiction Judge, is a writer from El Monte, California. He is the author of This Time Tomorrow, a novel awarded an International Latino Book Award, and Every Night Is Ladies' Night, a story collection that received the California Book Award for a First Work of Fiction. His poetry was published in the second run of Gary Soto's Chicano Chapbook Series, and his essays have been featured in the Los Angeles Times and on Zócalo Public Square, KCRW, and KPCC's "Unheard L.A." series. More recent work can be found in ZYZZYVA, The Los Angeles Review of Books, and LAtitudes: An Angeleno's Atlas.
Amanda Fields, our Nonfiction Judge, is an Assistant Professor of English and the Writing Center Director at Central Connecticut State University.  She has co-edited two essay collections, most recently My Caesarean: Twenty-One Mothers on the C-Section Experience and After (The Experiment, 2019), and publishes scholarship and creative writing. "Performing Urgency: Slamming and Spitting as Critical and Creative Response to State Crisis" won the 2016 Kairos Best Webtext Award. Her essay, "Pulled into Brightness: A Caesarean Body",  which appeared in So to Speak, was nominated for a 2019 Pushcart. She received a PhD in Rhetoric, Composition, and the Teaching of English from the University of Arizona and an MFA in Creative Writing with an emphasis on Literary Nonfiction from the University of Minnesota.

Sara Borjas, our Poetry Judge, is a Chicanx pocha and a Fresno poet. Her debut collection of poetry, Heart Like a Window, Mouth Like a Cliff, was published by Noemi Press in March 2019 as part of the Akrilica series. Sara earned a B.A. in English Literature from Fresno State and an M.F.A. in Creative Writing and Writing for Performative Arts from University of California, Riverside. She is currently a lecturer in the Department of Creative Writing at UC Riverside. Her poetry can be found in The Rumpus, The Academy of American Poets Poem a Day Series, TinderBox, The Offing, Entropy, Queen Mob's Tea House, Cultural Weekly, The Acentos Review, and Luna Luna, amongst others. She co-hosts and produces The Lovesick Poetry Podcast — a west coast poetry podcast launching in 2019, alongside IRL cousin and award-winning poet, Joseph Rios. She is a 2017 CantoMundo Fellow, a 2016 Postgraduate Writers Conference Fellow at Vermont College of Fine Arts, and a 2013 Community of Writers Workshop at Squaw Valley Fellow. She is the recipient of the 2014 Blue Mesa Poetry Prize. She lives in Los Angeles but stays rooted in Fresno.