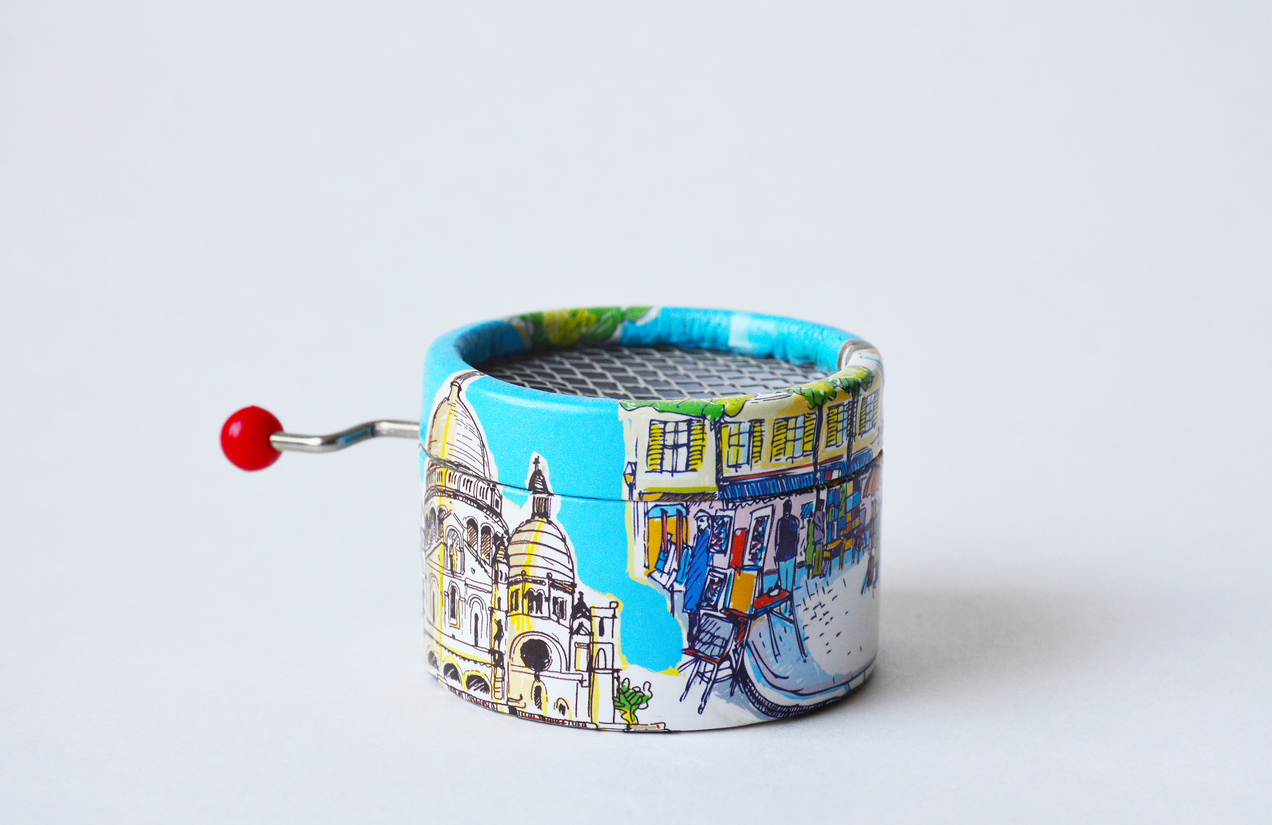 Instead of carrying the imprint of sudden loss into every situation—including ones that might be good or light or love—for the first three decades of her life, she would have been the spoiledest girl that ever walked the earth if her dad's parents had lived longer. Her dad says this like maybe he thinks it sounds like I love you. That often and in that way. Her dad's mom, basically Lucille Ball packed into a spitfire barely five feet tall, died because of lung cancer that spread to her brain and left a fancy teddy bear in her care. Her sister was too young to be a responsible bear keeper. Her dad's dad died even before that.
The house belonged to her dad's parents. Olive green, full of music boxes and spoons from around the world. Did she have it right that her grandparents traveled a lot? They barely got past retirement age before they died—everyone's nightmare. Why doesn't she have a music box as an inheritance now? She remembers going through the spoons in little light some years ago and picking New Zealand, Denmark, and for some reason, Russia. But where are these spoons now?
These grandparents loved to party, maybe? Have parties, anyway. She was three months old, so the party was probably celebrating the coming of summer just around the rainy, lightning-y bend. Were her mom's parents there? Were either of her dad's parents dying? Not so that it showed.
He was 66. People were in the backyard grilling burgers and zucchini and eggplant, she imagines. Her grandfather was holding her, sitting—thankfully—in a green armchair and died instantly of a heart attack.
"That is no way to hold a newborn," her mother scolded when she came back inside and saw her first baby, a premie who had been trying to be born since five months after conception, draped carelessly over her father-in-law's legs. "George?" The baby's head wobbled on the end of her neck. Before gravity could cut off the baby's airway, her mother scooped her up and brushed against George's cool hand with the swollen fingers. How did her mother call for help? The baby, now 33, cannot imagine her mother crying.
Her father ran in, though, or maybe came into the room because he was going there anyway, felt what happened before he fully saw the scene and dropped to his knees. It's too soon, it's too soon, he started out whispering.
Too soon.
Just like her. Her too soon almost killed her mother.
She cannot imagine or picture anything else. Not her grandmother, of whom she has barely three memories, not what anyone was wearing or who called the ambulance, not the rest of the house. Just the good little room with the good little family who has just lost the good man who, her mom says it like she thinks you know she means I love you, for three months thoroughly enjoyed that good little child.
Megan Wildhood is a creative writer, scuba diver and social-services worker known for her large, idiosyncratic earring collection. Her poetry chapbook, Long Division (Finishing Line Press, 2017), ruminates on sororal estrangement and volleying the challenges of growing up on the planet that's very nearly on fire. An excerpt of her novel manuscript was published by AMP Hofstra's literary magazine in May 2019. Her other work has appeared in The Atlantic, The Sun, and Yes! Magazine. She regularly writes for Real Change and Mad in America. She wants to connect with other weary humans around issues of mental and emotional distress, creating real community from the ashes of individualism and finding real hope if only as an act of defiance in these tattered days. You can learn more at meganwildhood.com.
The Roadrunner Review nominated "Good Little Light" for The 2020 Best Small Fictions with Sonder Press.