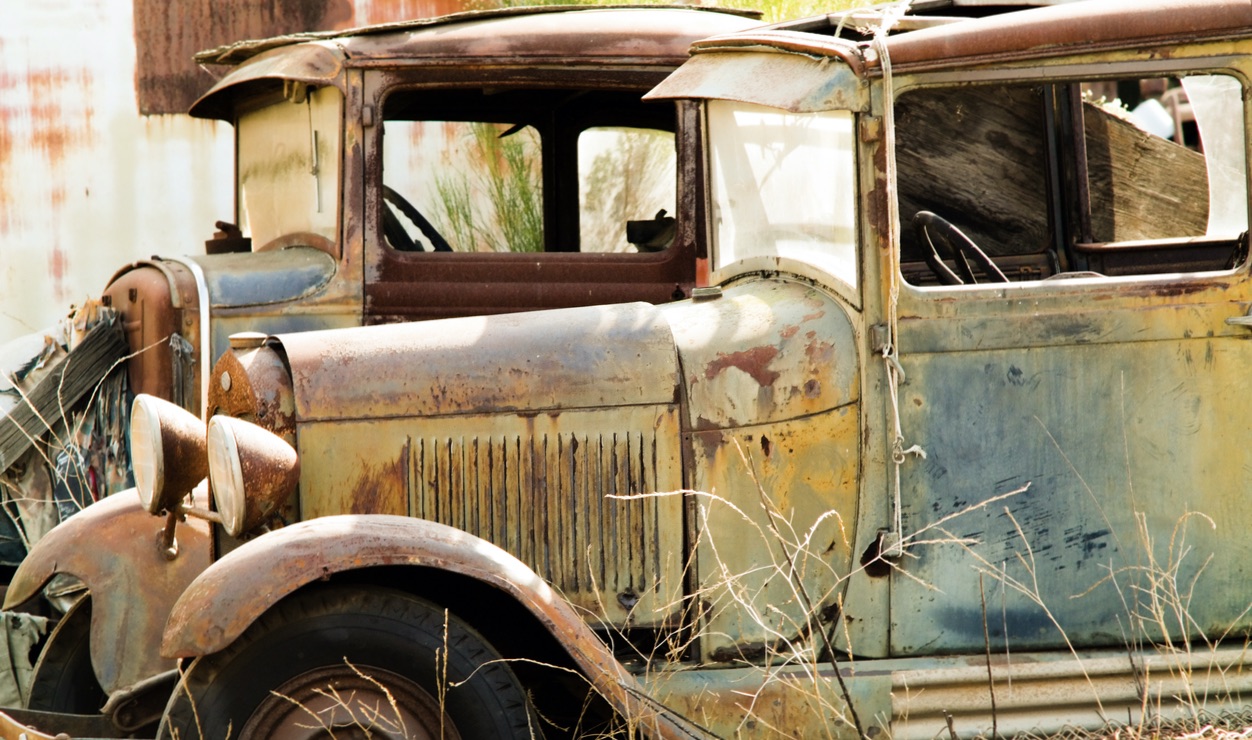 According to family legend, my great-grandfather bought one of your Model A's for five dollars. We called him "Bestefar" because he was from the old country. I want to believe him, but it has been a long time.
And the car just might have been a real jalopy.                    (A term your cars almost invented.)
Maybe I'm confusing the story with what you made famous: "The Ford Five Dollar Day." You paid your workers five dollars a day to become human automatons. You learned from watching disassembly lines in slaughterhouses, men covered in blood removing the same part, the animals hung on hooks. You designed your assembly line after the one Upton Sinclair revealed for its horror in The Jungle. And you wonder why your workers formed a union against you.
I wish people would remember what that stupid blue logo really stands for: a wannabe mafioso. I wish they remembered that you ordered your gangsters to shoot into a crowd of protestors—wanting the right to be your automatons—killing five, injuring many, with the full support of the Detroit Police and Fire Departments behind you. Everyone was in your pocket.
And eight years later you still lost.
That's something worth remembering. That money can't buy everything. That you shot Americans in the streets.
You might say "had them shot."                                                                          (I would disagree.)
Maybe people will remember, just like how they remember Ferdinand Porsche designed the Volkswagen Beetle for Hitler to make the "everyman's car." The folk's wagon.
Like how they remember the blue and white on the BMW insignia meaning two propeller blades cutting the air, because that's what BMW did in WWII, for the Nazis, until they couldn't, because they were Nazis.
 Like how they remember Ralph Nader for canceling the Chevy Corvair and then canceling Al Gore 35 years later.
Sorry if this seems tangential. I can assure you, it's not.
The only Ford I've owned was a '29 Model A built by poor and impoverished hands. Maybe the owner of those hands was one you had killed, gunned down like in a mobster movie only three years after they built it for you, for your empire.
The car was small. You didn't have people big like me in mind when you built it and the only memory I have is riding with a different grandfather as a boy in the seat and him shifting and pulling the rev handle and smiling as we bounced down the dirt road in the back hills of nowhere. Those hills have been burnt to the dirt since then, my other memories gone with it.
I believe he bought it for five dollars. I bet it was from a communist. Yeah, those communists looking for a fair shake.
And they call you The Man Who Built America. I hate that. Are they right? Did you "Build America?" Or was it those hands you paid five dollars that built America? The ones that raised in protest as you fired into them?                                             (We both know the answer)
But you built these headstones:
JOE YORK
HIS LIFE FOR A UNION
FORD HUNGER MARCH
– 1932 –

JOE DeBLASIO
HIS LIFE FOR A UNION
FORD HUNGER MARCH
– 1932 –

JOSEPH BUSSELL
HIS LIFE FOR A UNION
FORD HUNGER MARCH
– 1932 –

KALMAN J. LENY
HIS LIFE FOR A UNION
FORD HUNGER MARCH
– 1932 –

CURTIS WILLIAMS
HIS LIFE FOR A UNION
FORD HUNGER MARCH
– 1932 –

Do you lose sleep in your grave when you read those names? Or do you ignore them? Push them deeper into the soft and warm soil beneath you and let them rot as you rot, just separately? They are in Woodmere Cemetery after all. Maybe a little far from yours.                                                                                                                              (Ford Cemetery)
 My great grandfather could barely muster enough breath to speak over a whisper, and that's how he told me, "I bought my first car for five dollars," him leaning down and me looking up into age still beyond my understanding. He leaned back and smiled, and I didn't know if it was a joke or the truth.
He used to live in Michigan, my great grandfather. Maybe he had that story confused, or maybe I do now. But not yours.                                                                                      (I remember)
 
Can you hear me down there? 
I remember.
Jake Zawlacki is an MFA candidate at Louisiana State University. His work has been published in The Citron Review, Gravel, and Litro.